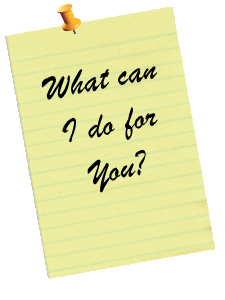 Related Links:
GRandall Web Design » Development
Your Web Development
The Face of Business has Changed..
Main Street, once the heart beat of the business world, has undergone profound change in the last few years. No longer is business limited by geographical boundaries. You can have your business on Main Street, but this street runs the world over.

GRandall Web Design takes pride in its custom web sites, no standard run of the mill web templates here. During all phases of the design process your input is sought for a final product that you will be proud to call your own. Your web site is your home on the Internet, why not make it a showplace?
Getting Started
Your Domain Name
Believe it or not this aspect of web design is often initially overlooked. What's in a name? A lot if your business depends on it! Some thought must go into selecting a name. You want your domain name to reflect your business and business name if possible. Something to ask yourself - if you were to search for your business on the internet, what key words or search words would you type into a search engine like Google? Placing some of those search words in your domain name might help your exposure with the search engines.

Once you have decided on a domain name it is time to find out if it is available. You will need to search a registrar database like 123CheapDomains to find out. Go to the web site and type in your prospective domain name in the search box provided. If your name is available you can register it immediately. In some cases you will find that someone has already registered the name, in that case try another name.

You can register your domain name from one year to 100 years. A domain name is like cyber real estate - you can transfer or sell it even! Once you have registered your domain name be sure to make a note of your user ID and password. Don't lose these. GRandall Web Design will need these to access the domain manager and your domain account to transfer your DNS to your web hosting provider.
Hosting Your Site
Once you have a domain name registered you will need to find a place on the internet to build your web site. This hosting server is also known as the Domain Name Server (DNS). Your Internet Service Provider can sometimes provide server space for your web site. GRandall Web Design will host your site for you also; in fact that is advantageous for you - low yearly fee and strong support and maintenance.
The Development Process
GRandall Web Design Planning Form
Once you have decided what you want to accomplish with your web site and the size of your site (see Your Web for how to do this) it is time to start the development process.

To do that fill out the Web Design Planning Form on the Contact Page and send it to GRandall Web Design. We will get back to you with our Web Design Proposal for your approval. That's all there is to it! Together we can design a site that will highlight your business and bring you customers.
What to Expect from GRandall Web Design
During the construction of your new web site GRandall Web Design will be in contact with you to insure you get the site you want. You will be able to preview your site online as it is being constructed. GRandall Web Design will provide suggestions, ask your opinion on your layout and work with you to make this a truly custom site to be proud of. Your site will be totally yours and reflect your personality or business. The design must be appealing to your customer or visitor; it must catch their eye so they will come back. Your web site must also be easy to navigate and download quickly. There's no better way to lose your customers than a slow download or confusing content on a web page.

Designing a professional web site is very time consuming. There is a lot of code, scripts and programming that goes on behind the scenes; you or your visitors will never see that. GRandall Web Design will design your web site to meet your needs and create an impressive online presence for you. The package price also includes the many extras that will insure your business success, such as specific meta tag key words for your business or organization, and links to and from related sites (if applicable) to help your listing on search engines. GRandall Web Design takes a hands on approach to your web needs. After all, this is your web site and it will represent you on the World Wide Web. You know what they say about first impressions.
What GRandall Web Design Expects From You
Throughout the development of your web site your input is crucial. When we begin your web development as part of the web design package GRandall Web Design will need all your available source material. If you have sales literature, brochures, catalogs that will help in the design process please send them to GRandall Web Design. In addition send any content text and any digital images you would like to see on your web site. GRandall Web Design can design specific graphics like headers, logos, navigation buttons and write content for you, but the more information you provide the smoother your web development will be.
Additional Costs
Extra costs to the web package deal may include custom designed graphics such as logos and animations, CGI or PHP customer interaction forms, and custom JavaScript. We also provide web support services such as Domain Name registration, Web Site Hosting, and site maintenance. The cost for these extra services, if any, will be worked out on a case by case basis as part of the proposal process.

See GRandall Web Design Pricing for more information.
Updating Your Web Site
Web Site Maintenance
After your web site is finished what next? Your package deal comes with 2 hours of web site maintenance to insure that everything works and is to your liking. After that additional maintenance will be charged on an hourly basis of $40.00 per hour. If you don't plan to make many changes or updates to your web site this is the most cost-effective way to go. On the other hand, if you plan to update your site often, for example you have a news page that will require frequent changes or an online store that needs regular inventory updates, you might consider the GRandall Web Design Web Maintenance Plan as a less expensive way to go. With the Maintenance Plan you receive 24 hours of prepaid web maintenance for $20.00 per hour or $480.00. That's 50% off the standard hourly rate. The price for the Maintenance Plan is a lump sum fee, which is why I can offer the substantial savings.

See GRandall Web Design Pricing for more information.
Other Web Design Services
Redesign of Existing Sites
Do you have an existing web site already? GRandall Web Design can take over the management of the site and redesign it for a fresh new look. The new design will incorporate the latest web technologies and w3c standards for accessibility and compliance. Package prices, hourly rates or GRandall Web Design Maintenance Plan will apply depending on the redesign work involved. We can discuss this further as we develop your web design proposal.

Contact GRandall Web Design for more information.