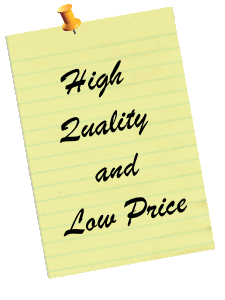 Related Links:
GRandall Web Design » Pricing
Web Design Pricing
Quick Links:

[Basic Package]

[Web Hosting]

[Graphic Design]

[Web Support]
Your Basic Custom Web Design Package includes a Home Page layout, up to 400 words per page (you provide the text). Of course your site is custom designed to your specifications - all content, site structure, graphic layout, color schemes, navigation and e-mail links, upload to your Internet Service Provider and optimization for search engines such as Google® is included in the package price.

For additional fees, we can design custom graphics such as logos, animations, interactive graphics and scan more images for you. We also provide web support services and site maintenance. CGI customer interaction forms, custom JavaScript, PHP and MySQL databases are available too.

NOTE: These prices are provided as a general planning guide. Your web design cost may vary depending on your specific requirements.
Basic Custom Web Design Prices

One Page Web

$200

3 Scrolling Screen Size

Two Page Web

$400

Includes Navigation Links

3-Page Web Package

$500

Save $100

5-Page Web Package

$800

Save $200

10-Page Web Package

$1550

Save $450

Additional Pages each

$150

You Save $50 page**

**NOTE: Cost for additional pages apply to web design packages only.
GRandall Web Hosting Plans:

Express Web Hosting

$60 year

For Small Sites

Streamline Web Hosting

$108 year

For Medium Sites

Zephyr Web Hosting

$144 year

For Large Sites

*NOTE: Paid annually only. No Set-up fees! All plans can be upgraded instantly. Includes e-mail accounts, web statistics, cgi/php scripts, & mysql databases.
GRandall Graphic Design Prices

Scanned Images ~ jpeg format Internet Ready

$10 each

Custom Graphics ~ jpeg or gif for web, Adobe for print

$100 each*

Animated Design ~ animated custom gifs for web

$120 each*

Flash Animation ~ web ready

$180 each*

Interactive Design ~ image maps, rollovers, etc.

$160 each*

Professional Photography

$5.00 each + $40.00 hr

* Includes up to four hours work time, $40.00 hr. afterwards.

Because the time and complexity of Custom Graphic Design work can vary from job to job these are minimum prices. Please let GRandall Web Design know what your specific requirements are for your custom graphics so we may be able to give you a more accurate price proposal. No surprises here, we want you to be completely satisfied with your custom graphics.
Additional Web Design Services

Maintenance

$40 hour

Maintenance Plan

$480 yr*

save 50%!

Domain Registration

$40

2 yr registration

Shopping Carts

$10 each

Includes Setup

Custom Forms/Scripts

Variable

Inquire as to Pricing

Database Design

Variable

Inquire as to Pricing

*Twenty-four hours of web site maintenance includes revisions, updates to content, and repair. This is prepaid web design for existing customers only.
Payment Terms:
Customer to supply all source material for site

~ This includes graphics and text, be as complete as possible to keep your hours down and save money!




Payment 50% down, balance on delivery


No credit cards at this time please


Offer may change without notice


*Not quite sure what source material to send? Get some great ideas and helpful hints from the Your Web page. Don't forget our Frequently Asked Questions page also.
Interested? If so please take a moment and fill out and submit the Web Design Planning Form, and we will get back to with our proposal as to how we might best serve your needs.