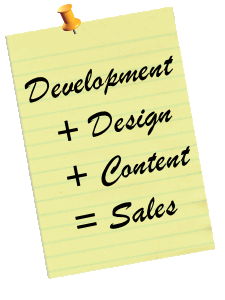 Related Links:
GRandall Web Design » Your Web
Planning Your Web Site
Each Site is as Unique as You are..
Having a web presence for your business or organization is not a luxury anymore; it is a necessity. Today's consumer expects a web site, you lose credibility without one. Adding your web site address to your business card, the yellow pages, or other forms of advertising maximizes your exposure to prospective customers at all levels.

A well crafted web site can make a positive and lasting impression on your prospective customer or visitor. It showcases your business or organization, and provides a point of contact for you and your customers. Planning your web site properly is crucial. Use the suggestions below to help rough out your web design strategy.
Assessing Your Web Site Needs
What do you want your web site to do?
You must ask yourself these questions:

"What do I want my web site to do for my business or organization?"


"Do I need a static site just to showcase my business?"


"Do I need to gather information from my customers?"


"Do I plan to sell products or services from my web site?"


"Who are my targeted customers?"



A great place to get inspiration for your web site is from the internet itself. Surf some of your favorite web pages and note the things you like about them, then put those ideas to use on your own web page by including them in your rough draft. Include these site URLs in your correspondence with GRandall Web Design too, it will help us get on the same track with your design ideas.

The size of your web site is important. If you do not plan to sell products or have a catalog then a small three to five page site will suit most business or organizational needs. If you are interested in starting an online store to sell products or have a lot of information to pass on then a larger ten or more page site might be the way to go.

Some Page Ideas

Home Page

Contact Page

About Us Page

FAQ Page

Related Links Page


What's New Page

Gallery Page

Products Page

Catalog Page

Children's Page


Auction Page

Shopping Page

History Page

Feedback Page

Staff Page


First plan your budget, then decide what pages you do want on your web site and make your determination from there. See GRandall Web Design Pricing for more information.

Estimate your cost with GRandall Web Design's web Calculator.
Drawing Up Your Rough Draft
Things to think about.
Your Site Name: This would be your business or organization name. Your site name should incorporate your domain name if possible. Your site name would also be used for your page titles. Page titles are used in the code to make the meta tags used by search engines to find your site on the internet.

Header: You should have your business or organization name in the header. Think about what you would like to see in your header. Would you like to use graphics such as your logo? GRandall Web Design can design custom headers for your site based on your company logo. GRandall Web Design can also design a logo for you.

Navigation Menu: To navigate through your site it will have inter-page hyperlinks. Do you have any preference where you would like to place your navigation buttons? Smaller sites six pages or less could use a top aligned navigation system. Larger sites would benefit from a side navigation system. GRandall Web Design can also program expanding menus for very large sites.

Top Menu Bar Example

Top Menu Bar Example

Top Drop Down Menu Bar Example

Side Menu Example

Expanding Side Menu Example

Background: Colored or textured? Let us know what your favorite colors are, or if you have any color preference at all. Colors are very important and can convey the feeling of your web site. When choosing a textured background pick one that will complement your web site message and not clutter it and make the text hard to read.

| | |
| --- | --- |
| Light Background Example | Dark Background Example |
| | |
| Textured Background | Textured Background |
| | |

Web Graphics: Highlight your message or products with graphics. You can send us your photographs or e-mail us your digital images for placement on your web page. Regular photographs can be scanned for an additional fee. We can also place custom or animated graphics that we design for you on your pages. All graphics will be in the jpeg or gif format, and compressed with an eye towards faster download times. There is no quicker way to lose your visitor than using huge graphic files that take forever to download. GRandall Web Design will strive for that delicate balance of quality and small file size.

Proofed Text: What message do you want to present to your customer or visitor? You provide the proofed text to be included on your web site. GRandall Web Design can format the text in your favorite font, but be aware that the user's browser and computer dictates how your font will display. Using common fonts will such as Ariel or Times New Roman will alleviate this problem. We can discuss this further when the time comes.

Dynamic Web Content: Make your web site interactive. Dynamic content enhances your web site. It can be in the form of rollover navigation effects, pop up information windows, image maps, special effects, and feedback forms. Some Examples:

| | |
| --- | --- |
| Rollover Effect on a graphic button image. Place your mouse cursor over the image. Creates an animation effect. | |
| | |
| Pop Up Information Window. Place your mouse cursor over the EXAMPLE text. Handy for displaying amplifying information. | Five-Page Web Design |
| | |
| Image Map Pop Up Information Window. Place your mouse cursor over the circles. Image Maps can also be used for site navigation. | |
| | |

Feedback Form: Forms are an example of dynamic web content and used to collect and pass information along from or to your customer or visitor. Forms provide a user interaction by entering something then submitting with the click of a button.

| | |
| --- | --- |
| Interactive Form. Fill in your Name in the space provided and click Submit. See what happens if you leave it blank and click Submit. | |
What GRandall Web Design Needs From You
Web Site Source Material
GRandall Web Design will need all your available source material. If you have sales literature, brochures, catalogs that will help in the design process please send them to GRandall Web Design. In addition send any content text and any digital images you would like to see on your web site. GRandall Web Design can design specific graphics like headers, logos, navigation buttons and write content for you, but the more information you provide the more cost effective your web development will be.
GRandall Web Design Planning Form
Once you have a rough plan of your web development needs it is time to start the design process. To do that fill out the Web Design Planning Form on the Contact Page and send it to GRandall Web Design. We will get back to you with our Web Design Proposal for your approval. That's all there is to it!

NOTICE: We reserve the right to refuse our service for web sites that we consider inappropriate or objectionable.